There is no doubt that the Covid-19 pandemic has changed the way that pharmaceutical and medical equipment products are traded globally. The demand for products such as ventilators and PPE has soared, plastic face masks alone saw a 312% increase in demand in 2020 according to MarketResearch.com. Causing increased pressure on the supply chain and forcing the way these products are traded to change.
The fast moving spikes in demand driven by the pandemic, make it even harder for B2B distributors to know where to focus their efforts. That same turbulence, means there is a golden opportunity for product driven ecommerce sites to grow market share.
National lockdowns and restrictions on face to face meetings have compelled B2B traders of these products to innovate. Selling to business partners online has proven to be crucial for traders as demand continues to increase, and the erratic nature of Covid-19 keeps entire countries in and out of lockdowns. Home working has meant sales staff dont have the face time with customers and that has lead to an increase in omni channel selling.The pandemic has emphasized the need for capable e-commerce solutions in the industry, and it is highly unlikely now that those firms that have integrated an e-commerce capability will go back to more traditional methods of selling after the pandemic.
The following statistics gathered by Neil Patel for orientation.agency show that healthcare and pharmaceuticals are among the growth industries experiencing increased online traffic as a result of covid-19 in 2020.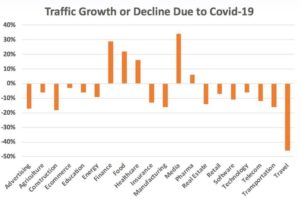 Furthermore, according to Pharmaoffer, B2B buyers are getting younger, in the 2 years leading up to 2020 the percentage of millennial buyers jumped from 12% to 46%, on top of that 90% of millennial buyers use the internet to find their business partners.
Having a product driven e-commerce solution in place allows B2B firms to be found based on their products. With hospitals and medical practices globally seeking these products faster than ever before, B2B firms leading online with their products will be found first.
Those that have stock, but not an e-commerce capability have the opportunity to capitalise on this. That's where the SouqBox platform comes in, traders can have a fully 'own-branded' e-commerce site up and running in less than an hour, without the need for a contract or large capital investment. The transition is rather seamless too, as common B2B practices such as negotiable and fixed price selling as well as logistics negotiations are built into the platform.
If you've got the product, why not make it available to your buyers online? Start selling your high demand products online today with SouqBox.
‍