Covid-19 has forced innovation in dozens of industry sectors, food & beverage is no exception. Since the pandemic, market leaders in the b2b food space have taken the leap to online selling and increased their annual revenue as a result. Unlike many other trends that have surfaced as a result of the global pandemic, online b2b trading in this industry is here to stay. According to Sana, online sales in this space will make up 15-20% of the food & beverage industry's overall sales by 2025, this percentage is 10x higher than it was in 2016.
So why is it becoming so popular? It can save precious time and money, by avoiding antiquated methods of selling via the telephone/email and accepting orders 24/7 automatically. Furthermore, it has become more and more difficult to sell face-to-face as the erratic nature of the pandemic continues to provide uncertainty and forces restrictions on public mixing.
The following statistics gathered by Neil Patel for orientation.agency show that food is among the growth industries experiencing increased online traffic as a result of covid-19 in 2020. The resilience that this sector shows bodes well for the future and suggests that the shift to b2b e-commerce has helped it stay afloat. With the hospitality sector starting to fire its engines up once again as restrictions slowly lift globally, the demand for wholesale food and beverage products is increasing rapidly as the population flocks to restaurants and cafes seeking a taste of normality.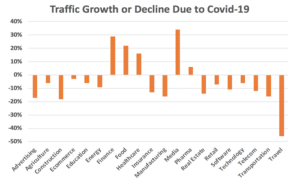 Furthermore, according to Pharmaoffer, B2B buyers are getting younger, in the 2 years leading up to 2020 the percentage of millennial buyers jumped from 12% to 46%, on top of that 90% of millennial buyers use the internet to find their business partners.
This poses an opportunity for the suppliers in this sector to capitalise on growing demand and make their products more easily accessible. How can this be done? With a professional and b2b tailored ecommerce platform that drives traffic based on product searches. With SouqBox, traders can have a fully branded e-commerce site up and running within 30 minutes. On top of this, it's contract and risk free.
What are you waiting for? Capitalise on modern trends and save time and money with SouqBox.
‍